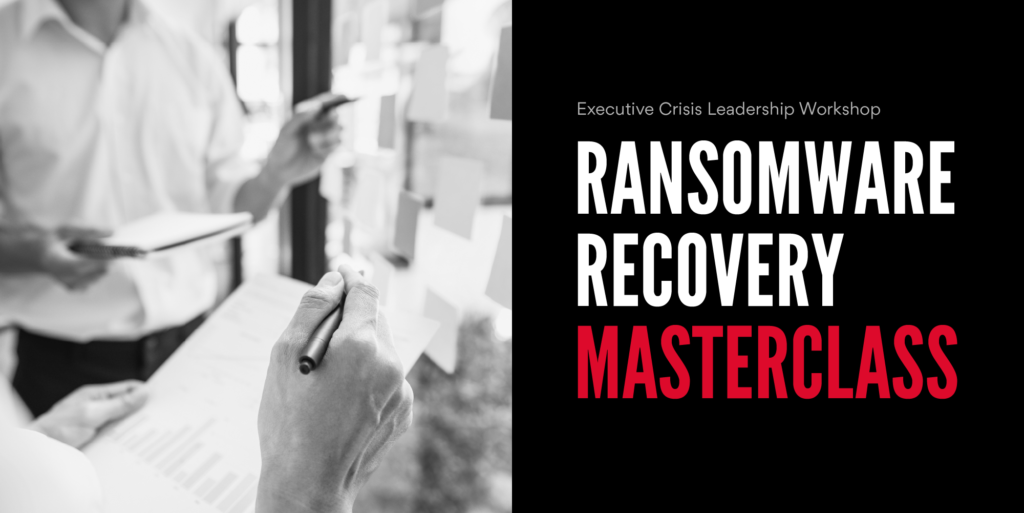 Date: Wednesday 21st June
Time: 9:00am – 2:00pm
Venue: Tower of London, Tower Hill, London EC3N 4AB
Confidently managing a major cyber incident has quickly become a vital requirement of senior executives. Organisations require the skills to minimise revenue loss, reputation damage and the impact on business operations.
Recovering from a ransomware incident is the ultimate test for your Resilience, Business Continuity, Cyber Security and IT Teams.
Join the masterclass on 21st June to prepare yourself and your team to deliver an exceptional response.
Register now
The day
The objective of the day is to prepare your teams to deliver an exceptional recovery from a ransomware crisis.
The masterclass is built around a multi-layered scenario, spanning both cyber and physical realms.
You are a senior executive in charge of handling the response.  As the crisis unfolds, you'll also be guided through how to co-ordinate the overall response and given a view through the lens of multiple different roles at the organisation.
The day combines an interactive exercise with expert training on the key skills required to lead a successful ransomware response.
The latest cyber threats, and how to negotiate a ransom
How to co-ordinate multiple teams, both internal and external, in the response
The technical and operational considerations for a fast recovery
Who is the masterclass suitable for?
The masterclass is ideal for C-level executives responsible for technology, operations, cyber security, business continuity, resilience and risk teams.
We recommend bringing 2 or more attendees, from multiple departments.
9:00am – Registration and Breakfast
9:30am – Welcome and introductions
10:00am – Workshop
Chris Butler, Resilience Director, Databarracks
Paul Cragg, CTO, NormCyber
Jason Illingworth, Principal Analyst, NormCyber
Using a scenario-based appraoch, we will walk you through three stages of a cyber-attack and highlight best practices for response and recovering.
You play the part of the Crisis Leadership Team, and will collaborate to explore the callenges of the response.
The three stages are:
The initial response, including keeping the business going, and best practices for digital forensics and cyber incident response
The executive response, including crisis communications, leadership, the effect of insurance policies and the tricky question of whether to pay up
Recovery from the attack, lessons from 100+ ransomware recoveries and the considerations for getting your business operational again while minimising business impact
12:30pm – Networking lunch
1:30pm – Tower of London Tour
An optional free tour of the Tower of London guided by a Yeoman Warder.
Included as part of your registration is a Tower of London general admission ticket, allowing entry to The Crown Jewels, The White Tower and more.
2:00pm – Close
The venue – Tower of London
The event is taking place in The New Armouries within the Tower of London
(Less than 5 mins from Tower Hill or Tower Gateway)