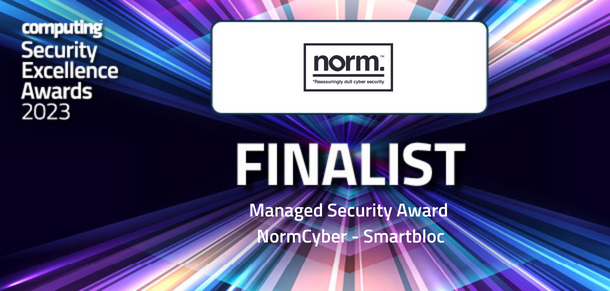 We're delighted to share that norm. has been named on the shortlist for the Managed Security award by computing.
Upon making the shortlist norm's COO Pete Bowers had this to say: "The Computing Security Excellence Awards are highly credible, so making the shortlist is a huge compliment to the team that work so hard to deliver the smartbloc. service."
The winner will be announced on 27th April 2023 at an awards dinner in London.
Take a look at the full shortlist.
Recognising and rewarding the companies, people, products and projects that keep the rest of us safe, Computing's Security Excellence Awards celebrate the achievements of the security industry over the last year.
Take a look at our other awards and nominations:
CRN Awards: norm. named on MSSP of the Year shortlist
norm. named Best Managed Service Provider – Europe