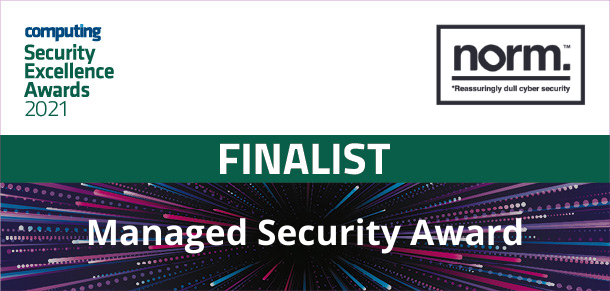 We're delighted to share that norm. has been named on the shortlist for the Managed Security award by computing.
Upon making the shortlist norm's COO Pete Bowers had this to say: "Being named on the shortlist in itself is a big achievement for us. Independent recognition is always nice to receive as it validates that we're heading in the right direction. We wish everyone shortlisted at this year's awards the best of luck and will be keeping our fingers crossed for another trophy."
The winner will be announced on 1st December 2021 in an exclusive computing awards eBook.
Take a look at the full shortlist.
Recognising and rewarding the companies, people, products and projects that keep the rest of us safe, Computing's Security Excellence Awards celebrate the achievements of the security industry over the last year.
Take a look at our other awards and nominations:
CRN Awards: norm. named on MSSP of the Year shortlist
norm. named Best Managed Service Provider – Europe