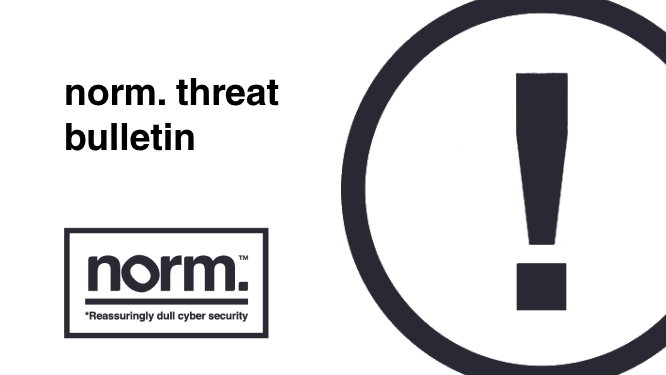 LastPass breach update
Last year norm. wrote about the LastPass breaches, however over the Christmas period LastPass provided updated information relating to the breach that occurred in August 2022.
In this, LastPass advised that the threat actor was also able to copy a backup of customer vault data from the encrypted storage container which is stored in a proprietary binary format that contains both unencrypted data, such as website URLs, as well as fully-encrypted sensitive fields such as website usernames and passwords, secure notes, and form-filled data.
The key risks from this are:
The threat actors now have a complete copy of all password vault data up to August 2022. If any of the vaults operated by anyone have a weak master password they are immensely easy to compromise. It is also prudent to ascertain that even more complex passwords would not be that complex to crack due to the human nature in creating passwords that are easy to memorise. Therefore, all password vault data is at a risk of compromise as a result. Further to this, LastPass have not given any details about shared vault items, whether these would be contained within each user's account if the vault is compromised.
The password vaults are linked back to email addresses which were exposed in the breach, the password vaults did not encrypt website URLs meaning that actors have a list of websites stored inside of each vault along with the high probability that the email address containing the vault being the login email for each website URLs.
The guidance being offered by norm., as well as many others, is if you use LastPass is to assume that all your passwords have been or could be compromised and to change all the passwords stored in your LastPass Vault. Not just the Master password, as just changing the Master password will not have any impact as the threat actor has an offline copy of the vault that is secured only by the password set on or before August 2022.
Sources:
Notice of Recent Security Incident
LostPass: after the LastPass hack, here's what you need to know
Attackers target Google Ads to serve malicious adverts to distribute malware
Operators of malware campaigns are making increasing use of 'malvertising' – MALicious adVERTISING – to distribute malware via the Google Ads platform. Businesses use Google Ads to promote search results for their services which often rank amongst the first few matching results. Malware operators can exploit this advertisement platform to serve malicious advertisements that direct the user to a benign website controlled by the attacker, which then takes the user to a malicious website impersonating a legitimate service provider. Bleeping Computer reports several popular products have been targeted with malvertising including Grammerly, Slack, Dashlane, and OBS.
OBS, the Open Broadcasting Software for content creators and live streaming, was targeted toward the end of December, whereby a malware operator created a fake website offering a fake OBS application download which contained RedLine Stealer – malware that harvests information from browsers including saved credentials, payment information, browser history, and cookies. The fake website was promoted via Google Ads and appeared above the official search result for OBS.
Fake OBS site: hxxps://obsprject[.]site
Legitimate OBS site: hxxps://obsproject[.]com/
Online security tools do not always report that the fake sites are malicious and can go undetected for some time.

WARNING
The fake OBS site provided above is still currently LIVE, serving the described malware. norm. advises that you do not make any attempts to visit this site.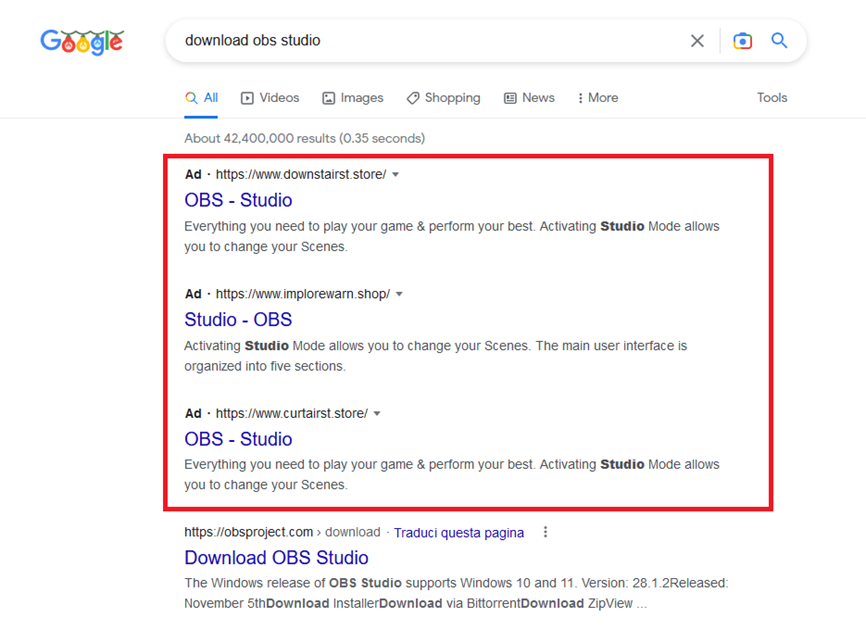 It is common for malware to be bundled into legitimate software which appears to be unaltered and can be used as if no modification was made. However, an unusually large file size of an application downloaded from the internet may indicate that the installer may have bundled malware that will execute in the background.
Solutions
Take precautions when using search engines before clicking any links. Does the domain of the site contain spelling mistakes or missing letters (known as typosquatting), or is the domain name relevant to the product or service you are searching for? The age of a domain and registrar information can also raise suspicion over the legitimacy of the website – has the domain been created recently in the last few days/weeks, and is the registrar's name correct/relevant? View these details with any WHOIS lookup tool.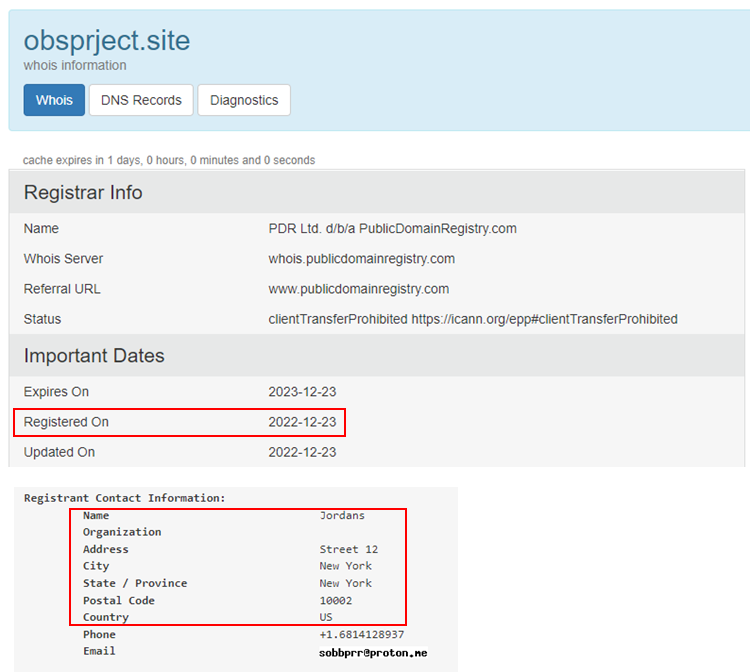 Software vendors may provide file hashes of files available for download which can be used to verify the integrity of files downloaded from the internet. You can use PowerShell to calculate the file hash of any given local file to compare with the file hashes provided by the software vendor. Alternatively, you can submit any file downloaded from the internet to VirusTotal or JoeSandbox for further analysis.
Consider the use of an Ad-blocker within your browser of choice. Although Google will attempt to hide search results that are deemed to be malicious, attackers do have techniques to evade detection. An ad-blocker can, in most cases, remove adverts entirely from view.
Sources
Hackers abuse Google Ads to spread malware in legit software
Fake OBS Studio Websites Advertised on Google Lead to Infostealer
Get-FileHash Powershell Reference
Reported phishing attacks have quintupled
The third quarter of 2022 saw Anti-Phishing Working Group (APWG) observe 1,270,883 total phishing attacks, this is the worst quarter for phishing that APWG has ever observed. The highest monthly total ever reported to APWG was August 2022 with 430,141 phishing sites
Over recent years reported phishing attacks submitted to APWG have more than quintupled since the first quarter of 2020, when they observed 230,554 attacks. It's not only phishing attacks reported to APWG that have risen, but there is also an obvious rise everywhere you look.
The rise in Q3 2022 was attributable, in part, to increasing numbers of attacks reported against several specific targeted brands. These target companies and their customers suffered from large numbers of attacks from persistent phishers.
Threat researchers noted the following statistics:
488 percent increase in response-based email attacks in Q3 2022 compared to the prior quarter.
While every subtype of these attacks increased compared to Q2, the largest increase was in Advance Fee Fraud schemes, which rose by a staggering 1,074 percent.
Phishing attacks against the financial sector, which includes banks, remained the largest set of attacks, accounting for 23.2 percent of all phishing.
Attacks against webmail and software-as-a-service (SaaS) providers remained prevalent as well. Phishing against social media services fell to 11 percent of the total, down from 15.3 percent.
Phishing against cryptocurrency targets — such as cryptocurrency exchanges and wallet providers — fell from 4.5 percent of all phishing attacks in Q2 2022 to 2 percent in Q3. This mirrored the fall in value of many cryptocurrencies since mid-year.
The Logistics and Shipping sector saw a large fraud volume increase, led specifically by a large increase in phishing against the Postal Service.
Continuing a trend observed in Q2, a huge increase in mobile phone-based fraud; vishing detection volumes are more than three times what was seen in Q2.
A nine-fold rise in "advance fee fraud", significantly higher than pre-pandemic levels
An 80% increase in threats from trusted services such as Microsoft, Amazon Web Services or Google, with nearly one-third (32%) of all threats now being hosted on trusted services.
Researchers summed up by declaring current security tools and processes like security awareness training can help to identify new attack trends, norm's cyber security phishing training & awareness package can educate users on how to spot a likely phishing email.
Sources:
APWG | Unifying The Global Response To Cybercrime
Phishing attacks – who is most at risk? – Office for National Statistics (ons.gov.uk)
Over 255m phishing attacks in 2022 so far | Security Magazine
Windows 8.1 end of support reminder
This is a reminder that Windows 8.1 goes out of support from Microsoft on 10th January 2023.
This means that you will no longer receive feature or security updates for this operating system, posing a growing security risk as time goes on.
In conjunction with this, key applications will stop supporting Windows 8.1 in the coming weeks and months, most notably the Office 365 suite and Google Chrome. Office 365 will not receive any 8.1 updates after 10/01/2023, but Chrome has extended support up until the end of the month, with the last supported version being Chrome 109 (currently in Beta).
It is recommended that organisations still running Windows 8.1 strongly consider upgrading or assessing the potential benefits of tactical mitigations (VDI environments, additional network segmentation etc).
Sources:
Microsoft Reference: Windows 8.1 support will end on January 10, 2023 – Microsoft Support
Google Reference: Sunsetting support for Windows 7 / 8/8.1 in early 2023 – Google Chrome Community
Office365 Reference: Windows 8 and Windows 8.1 end of support and Office – Microsoft Support
Further reading:
21st December 2022 Threat Bulletin
Get norm.'s threat bulletin direct to your inbox
norm. tracks and monitors the latest security trends and cyber threats and collates these into a fortnightly threat bulletin.
You can receive this bulletin for free, every fortnight, by entering your business email address below: